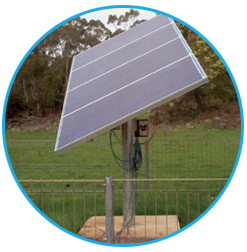 Applications
Water extraction from bore holes
Wells
De-watering
Creeks & Streams
Watering stock
General water transfer
Tube wells
Irrigation
Remote location water supply
Aqua culture
The Sun-Sub is a submersible pump and is the most popular Mono solar pump. Available, with either a stationary or GPS Tracking array, ranging from 200 Watts up to 2400 Watts, these systems can produce very high flows and discharge pressures up to 150m.
Mono™ Sun-Sub solar pumping systems have helped thousands of farmers and remote villages solve their water supply problems. They have replaced windmills or diesel powered pumps on remote bores providing economic, trouble free and reliable water.
The Mono Sun-Sub solar pump provides its own power eliminating the need for diesel fuel or AC power.
The system is easily automated to turn on or off controlled by float switch, pressure kit or built in electronic pressure control with float valves. Once your tanks & troughs are full, the pump will turn off, conserving water and reducing wear on the pump. The pump will turn itself back on again when more water is needed.
All Sun-Sub systems are supplied complete with pre-wired solar modules, array frames, pump element, submersible motor and solar motor controller. The entire package is easy to assemble and all electrical connections are fitted with plugs & sockets so electrical connections, do not require an electrician.
Accurately select the best system to meet your requirements using CASS (Computer Aided Solar Selection) software.
Sun-Sub solar pumping systems can be further enhanced with the use of GPS Tracking solar arrays and AC PowerPa generator interfaces.
The Progressive Cavity (PC) helical rotor pump element used in borehole applications is proven to provide maximum water output even in bores containing silt or iron oxide, and the PC pump will deliver water with every rotation regardless of speed, on solar.